Prof. Ali Muhammad Ismail Sait, M.A.,
[NB. Four years ago this date, he prayed his last Isha in Mosque. Apart from many qualities worth imitating, my beloved dad always preferred praying in a Mosque, and in doing so had a pattern:
(a) he would walk, irrespective of distance, weather, and time constraints, and (b) as long as was physically capable, tried to reach a different mosque for each prayer.
We, family members, knew that he was regularly going to mosque, but most never knew / noticed that he frequently went to different mosques in a single day! This consistent behavior and obvious fondness to pray in a mosque was--in word and spirit--according to the following Hadith:] :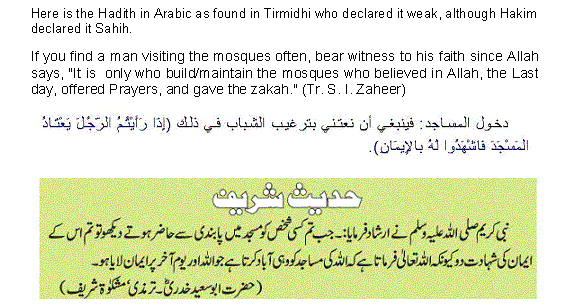 Personal:
15 Dec 1916 (19th Safar 1335 AH)- 21 Dec 2002 (16 Shawwal 1423 AH),
born in Bangalore; lived in: Mysore 1921-23, Telichery 1923-35, Mangalore 1936-37, Bangalore 1937-1942, Mysore 1942-1964, Gulbarga 1964-66, Mysore 1966-1998, Bangalore 1998?-1999?, Mysore 1999?-2002
burried in Mysore, India.
Family name: Sait (A Cutchi Memon Family, sur-name: Akbani.).
S/o Ismail Saleh Muhammed and Ruqia Bai;
Wife: Rukia Bai (d/o Ayub Karimunna Jamal), married 1946;
Children: Arifa (late), Sadiq (alias Ismail)(late), Aisha, Sayeeda, Taher, Ameen, Jawad, and Junaid.
Education:
M.A Arabic, Madras University, 1941;
B.A., Mangalore, 1939;
FA, Brenin College, Telicherry, Kerala.
Metric, 1933;
Profession:
Teaching Arabic at:
Department of Middle East Studies, Mysore University, 1985-96;
Government Arts & Science College, Gulbarga, 1964-66;
Maharanis College, Mysore, 1949-1985.
Member of the Board of Examiners:
Mysore University, Bangalore University, Madras University, Gulbarga University, Calcutta University, Calicut University, etc.
Other Interests:
Business (cloth store);
Specilist: Orientalism, Occidentalism, Theology, Philosophy, Sufism, and expertise in Urdu, English, Persian, Arabic language and literature.
Publications:
Articles, reports, translated works, etc. Listed among the prominent literary leaders of Mysore and Karnataka.
Served various social organizations:
Past-President, Cutchi Memon Mosque, Mysore; Founder-Member, Cutchi Memon Jamath, Mysore; Active-member, Anjuman Ittehadul Muslimeen, Mysore; etc.

A fitting eulogy, in Urdu, by Janab Razaq Afsar, Mysore
Back to Cutchi Memon Web site.